Miami Sustainability Education, Networking and CITP Certification
Fri May 17, 2019, 8:00 AM - 1:00 PM (EDT)

1 Hotel South Beach, 2341 Collins Ave, Miami Beach, FL, USA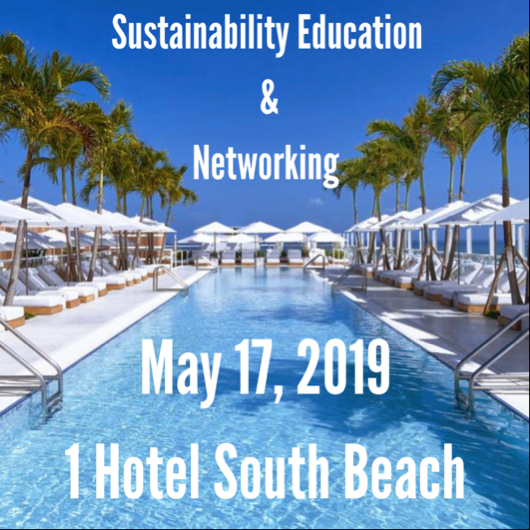 #*Join us for an enlightening day of wellness, sustainability education and networking *
Sustainable Tourism is one of our chapter's ongoing initiatives and we are so excited to bring this event to you for a second year!
We invite you to enjoy a fabulous Miami day at one of the most sought after hotels in South Beach. Experience sustainability education that you can apply to your personal life and your professional events. And network with like-minded colleagues and make some meaningful connections during the social activities.
This day will include a transformative experience aimed at achieving balance, health, nutrition and ultimate wellness! We will have an educational panel where we will share some sustainable best practices for the meetings and incentive industry! And we will tour 1 Hotel and learn about their sustainability initiatives.
The hotel tour will be followed by a mindfulness meditation session led by an Anatomy instructor and a vegan lunch with plant-based nutrition education by Plnthouse's Chef at 1 Hotel South Beach.
This is a hosted buyer event and we aim for a minimum 1:1 supplier/buyer ratio. Each supplier must host at least 1 buyer.
If you are a qualified buyer looking to be hosted, you may apply to be hosted here. We will follow up with you to confirm registration.
---
WHEN:
May 17th, 2019
9:30am Registration and networking prior to Sustainability event
10:00 am Sustainability Best Practices Expert Panel
10:45 am We will tour the hotel with a 1Hotel ambassador to learn and experience first hand their sustainability initiatives
11:30 am Meditation Class led by instructor at the exclusive Anatomy fitness facility
12:15 pm 12:15 pm Organic Plant Based Networking Lunch with Chef Nutrition demonstration
1:00 pm Optional Spa (1 Hotel has offered a discount off regular spa prices for our attendees, gratuities will be based on the original price, Spa menu and booking instructions)
WHERE:
1 Hotel South Beach
COST:
Early Bird Pricing starting at $75 per person
Valet Parking discounted rate is $15 per car
Limited to 30 attendees - Register Now!
ATTIRE:
Wear light comfortable clothing and shoes for the entire program. Athleisure, yoga pants, flip flops and sneakers are all appropriate for this event.
---
Moderator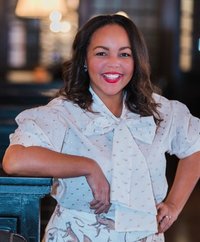 Maura Zhang, CIS, CITP is an island girl born in the Dominican Republic and resides in Miami since 1989. She is an industry leader with 20+ years in luxury-tier hospitality sales and marketing, hotel operations and travel industry sales. Maura's hotel experience includes the top luxury hotel companies such as The Ritz-Carlton Hotel Company, The Biltmore Coral Gables, Noble House Hotels, Kimpton Hotels and Benchmark Hospitality, where she earned achievement awards such as Chairman's Club, Platinum Club and Attitude & Determination Awards.
Maura has a bachelor's degree in Hospitality Management from Florida International University and she is big on sustainability, innovation and continuing education. Maura has been a lecturing guest speaker at FIU School of Hospitality and a contributor for MPI Chicago's award-winning newsletter, as well as editor of the SITE newsletter. Maura maintains active roles and participation in MPI, SITE and FICP. In 2016, Maura became a Certified Incentive Specialist (CIS), recently earned the Certified Incentive Travel Professional (CITP) and in 2018 Maura was the President of the SITE FL & Caribbean chapter.
In 2017, Maura became Managing Partner and help launch Synergy-Connect; a collaboration by a team of seasoned hospitality professionals, with a shared a passion for unconventional travel and emerging Destinations. Synergy-Connect represents, consults, and connects providers of unique and memorable experiences, with MICE buyers in North America. She currently represents Naples, Marco Island, Everglades CVB and Colombia en Colores DMC Cartagena.
---
Speakers
Elizabeth Wheaton has been working with the City of Miami Beach since 2008. Over the last eleven years, she has served in the Public Works Department, Building Department, and the Office of the Mayor and Commission. In 2015, the Environment & Sustainability Department was created and Elizabeth was appointed as the Director. The Environment & Sustainability Department focuses on climate change mitigation and adaptation through the lens of sustainability, environmental resources management, and urban forestry.
In 2014, Elizabeth was selected to participate in The Miami Foundation's Class VIII Miami Fellows Program, a prestigious leadership program focused on community engagement and impact. Most recently, Elizabeth was selected to participate in the Harvard Business School's Young American Leader's program.
Elizabeth graduated from the University of Miami, Rosenstiel School of Marine and Atmospheric Science with a Masters in Marine Affairs and Policy and now serves on the RSMAS Alumni Board. In addition, Elizabeth sits on the Advisory Board for the University of Miami's Business School Master of Science in Sustainable Business and is the chair of the University of Miami's College of Engineer Technical Advisory Committee.
---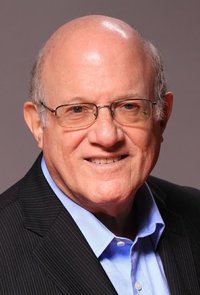 Steven Pollock, CMP, has had a career in the meetings & events industry spanning four decades. He has designed and directed event lighting and special effects, managed museum facility rentals, and worked in destination management.
Since 2007, Steven has been a Manager of Global Accounts with HelmsBriscoe. In this role, he does the research and applies his expertise in site selection and contract negotiations to procure the hotel or cruise ship, with the ideal environment and most favorable terms, for his clients' group meetings and incentive trips – anywhere in the world.
In addition to a BBA from Florida Atlantic University, Steven has attained the Certified Meeting Professional (CMP) designation from the Events Industry Council (EIC), and has held these leadership positions:
• Co-Founder and Past-President, International Live Events Association (ILEA) Florida/Caribbean Chapter, and Past Int'l Board Director as Ethics Chair.
• Founder and Past-Chair, SITE South Florida Region, which is now the SITE Florida & Caribbean Chapter (Society for Incentive Travel Excellence).
• Co-Founder and Past-President, Green Meeting Industry Council (GMIC) Florida/Caribbean Chapter
And Steven is currently:
• Co-Founder and President, Sustainable Events Network, Florida & Caribbean (SENFC)
• Inaugural member, EIC Sustainability Committee
• Founder and Chair, Meetings & Hospitality Alliance of South Florida
• 25-year active member of the Meeting Professionals International (MPI) South Florida Chapter
---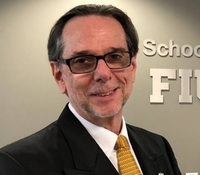 John D. Buschman, Ph.D
Adjunct Instructor, Chaplin School of Hospitality & Tourism Management
Robert Stempel School of Public Health & Social Work
FLORIDA INTERNATIONAL UNIVERSITY
Vice President, Education for the Sustainable Events Network, Florida & Caribbean and a 30+ year member of SITE, Dr. John Buschman teaches international tourism and corporate social responsibility at Florida International University's (FIU) Chaplin School of Hospitality & Tourism in Miami. John earned his Ph.D. and Master's degrees from FIU and his Bachelor's from Michigan State University. John's research and community engagement work is centered on food systems sustainability and food insecurity. He is particularly interested in the role that the events industry plays as he helps to educate current and next generations of hospitality managers on their social responsibilities toward the planet and the communities in which they live and work. He currently serves on the boards of the Sustainable Events Network, Florida & Caribbean (SENFC), affiliated with the Events Industry Council (EIC), as well as the Florida Food Policy Council (FLFPC).
John is a specialist in events food rescue, ensuring the reduction of waste from events and the delivery of otherwise-wasted nutrition to people in need. His extensive community engagement work includes the coordination of food rescues at major events including the Food Network South Beach Wine & Food Festival, the SEED Food and Wine Festival, Taste of the Nation, BizBash among others. John will share his experiences with us including how his SENFC Food Rescue Committee developed a first-ever food rescue at the recent MPI SES event in Ponte Vedra Beach.
---
COMMITTED TO SUSTAINABLE EVENTS
SITE Florida & Caribbean Chapter's Pledge to Sustainability
SITE Florida & Caribbean Chapter, the organizers of this meeting/incentive/conference/event are committed to making it an environmentally sustainable event according to the ISO 20121 and ASTM Standards with regards to the sustainability impact of meetings and events. The primary areas of impact are on:
*Air Quality
*Waste Management
*Energy Consumption and Production
*Water Conservation
*Procurement and Management
We comply with measurement and reporting protocols - please take a moment to download and complete our Participant & Exhibitor Checklist and return to Maura@synergy-connect.us. Join us in this sustainable process.
We seek to leave a positive legacy at each event for both the participant as well as the local community.
Please complete our Sustainability Stakeholder Survey . We value your input! This stakeholder engagement survey is an integral part of the ISO compliance process, and allows us to consider your sustainability needs, requests and opinions as we plan this event. Please take a moment to answer these 13 questions. Take The Survey!
---
Thank You to our Generous Sponsors

1 Hotel South Beach, 2341 Collins Ave, Miami Beach, FL, USA