SFC Mid Year Board Retreat
Fri Aug 16, 4:00 PM - Sun Aug 18, 11:00 AM, 2019 (EDT)

Isla Bella Beach Resort, 1 Knights Key Boulevard, Marathon, FL

AUGUST 16 - 18, 2019 for the SITE Florida & Caribbean BOD Retreat.
LOCATION: Isla Bella Beach Resort, Marathon
AGENDA:
Friday, August 16 - Arrivals (Check-in 4 PM) and Welcome Reception (7 PM - 9 PM all attendees welcome)
Saturday, August 17 -
8 AM - 9 AM Continental Breakfast
9 AM - 12 PM Meeting
12 PM - 1 PM Lunch
1 PM - 5 PM Meeting
7 PM - 10 PM Reception and Dinner Guests are welcome to attend
Sunday, August 18 - Breakfast on own / Departures (check out 11 AM)
GUESTS: Welcome Cost = $95.00pp
COST: The hotel is sponsoring the welcome reception the first night, continental breakfast and the meeting space.
Guestrooms are $99 ++. 3-day prior and post if you would like to book additional day/s.
Individuals will be responsible for any other of his or her own incidental expenses at the time of checkout.
Included in your stay
Complimentary High-Speed WiFi
Complimentary parking for one (1) vehicle per room
Use of bicycles, kayaks, and snorkeling equipment
Innspire In-Room Entertainment System
Complimentary Local and Toll-Free Calls
Outdoor games and activities including: Croquet, Volleyball, Fish Feeding, Life-Size Chess, and Kids Activities
Lounge Chairs, Umbrellas and Towels at Pools and Beach
In-room Coffee/Tea
Refrigerator in room
24-hour Fitness Center
Complimentary use of steam room at our Spa
Activity Concierge
This will be a great opportunity to bond and create stronger connections, as well as exchange some good ideas for the future of our chapter. This is a mandatory board meeting!

COMMITTED TO SUSTAINABLE EVENTS
SITE Florida & Caribbean Chapter's Pledge to Sustainability
SITE Florida & Caribbean Chapter, the organizers of this meeting/incentive/conference/event are committed to making it an environmentally sustainable event according to the ISO 20121 and ASTM Standards with regards to the sustainability impact of meetings and events. The primary areas of impact are on:
*Air Quality
*Waste Management
*Energy Consumption and Production
*Water Conservation
*Procurement and Management
We comply with measurement and reporting protocols - please take a moment to download and complete our Participant & Exhibitor Checklist and return to Jane@DolfinDestinations.com. Join us in this sustainable process.
We seek to leave a positive legacy at each event for both the participant as well as the local community.
Please complete our Sustainability Stakeholder Survey. We value your input! This stakeholder engagement survey is an integral part of the ISO compliance process, and allows us to consider your sustainability needs, requests and opinions as we plan this event. Please take a moment to answer these 13 questions. Take The Survey!
We're committed to supporting the 17 United Nations Sustainable Development Goals.
This event supports: subject to change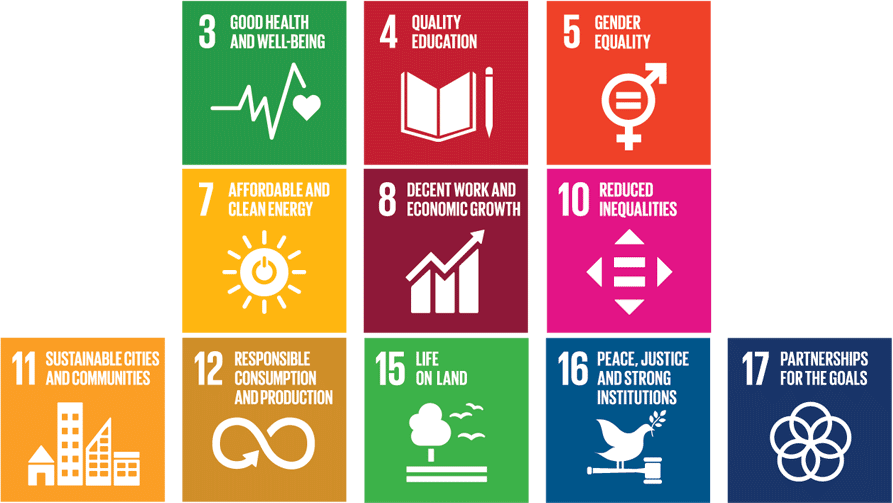 Special Thanks to our Sponor

Isla Bella Beach Resort, 1 Knights Key Boulevard, Marathon, FL