MASTERCLASS: Going natural - Converting to naturally sourced coloring ingredients in Pet Food
Thu 22 Oct, 14:00 - 16:00 (CEST)

PetXpert Virtual Master Classroom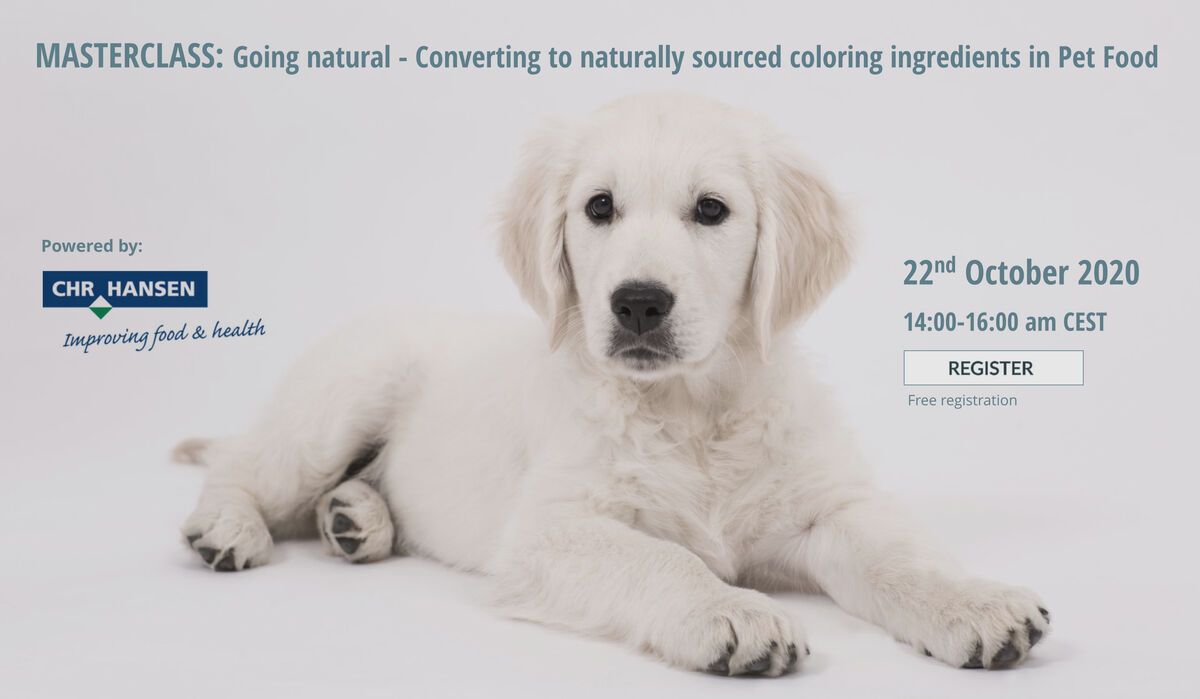 Join us for a Masterclass on colouring ingredients and feed materials for pet food.
We are happy to announce that on Thursday, October 22th, at 14:00 (CEST). We are hosting a live Masterclass with Rikke Sakstrup Frandsen and Ashlee Martin from Chr. Hansen Natural Colors. They will share their expertise in a two-hours Masterclass about how to develop and achieve more with colouring ingredients for Pet Food.
How to work with coloring ingredients, with Rikke Sakstrup Frandsen
14:00 - 14:50 (CEST)
The humanization and naturally trends are creating an evergreen need to develop Pet Food products that fit this new market reality. Using naturally sourced colouring ingredients is not always easy, requiring a new understanding of the pigments and technologies at the disposal of pet food manufactures today.
This session will focus on discussing the difference between artificial and natural sourced colouring ingredients, unveiling a natural pigment chemical structure and the technologies that can be applied for better colour performance and stability.
Answering questions as:
Naturally sourced colouring ingredients – how they are produced?
How to formulate for product stability?
What to consider when converting from artificial?
BREAK 14:50 -15:05 am (CEST)
Getting the most of your colouring ingredients, with Ashlee Martin
15:05 - 16:00 (CEST)
The ideal colouring ingredients solution varies according to different aspects, considering the brand positioning, target market, passing through type of product, production process and landing in the type of packaging. Using naturally sourced coloring ingredients should give Pet food brands the most, elevating their brand images and natural appeal.
This session with cover how to get the most of your coloring ingredients. Including how to select the right colour palette, the colouring ingredients according to product formulation (dry, wet, semi-moist, treats), how to develop and run trials to convert from artificial.
Answering questions as:
Red – how to find the right red match to convert from Artificial reds and Carmine?
Brown – how to convert to sugar-free Brown sources?
PetXpert Virtual Master Classroom