VOLUNTEER for G.I.F.T. Week at Frederick Municipal Airport - KFDK
Sun, Aug 8, 2021, 9:00 AM EDT – Sat, Aug 14, 2021, 5:00 PM EDT
Frederick Municipal Airport, 310 Aviation Way, Frederick, Maryland, USA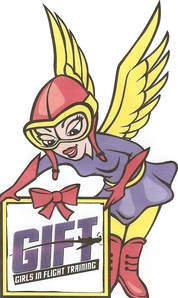 Girls In Flight Training (GIFT) Week was developed by CFI Mary Latimer as a way to help and encourage women to pursue their aviation dreams. During the week of August 8-14, 2021, women from all over the country will meet in Frederick, Maryland for ground school and, if desired, flight training. Training is available for all levels; aspiring private pilots, instrument, commercial, and CFI candidates are welcome to attend as well as rusty pilots looking for a Flight Review or an Instrument Proficiency Check*.
The Sugarloaf 99s are proud to host GIFT Week at Frederick Municipal Airport (KFDK).
Volunteers will help with:
transportation - help with scheduled group transportation to/from BWI or IAD and scheduled pick-up and drop off from the designated hotel to the airport.
flight training - if you have an aircraft and can devote time to help we'd love to have you fly in! we are arranging for discounted fuel and you can charge for instructor and plane (must discuss with organizers to ensure all terms are acceptable and disclosed to participants)
ground training - subject to approval from the event organizers
hospitality - we need help with organizing lunch daily for the participants and volunteers
If desired, rental cars can be procured on the field at Frederick or at BWI and IAD. Bay Runner Shuttle can be booked to/from Frederick Airport and BWI if volunteer transportation is not available or convenient for flight reservations.
A special discount rate of $100/night has been arranged at the TownePlace Suites by Marriott off of Westview Drive in Frederick, which is approximately five miles from the airport. Rooms include a refrigerator and kitchenette and a continental breakfast.
Block Name: Sugarloaf99s
Block Start Date: 2021 Aug 6, Fri
Block End Date: 2021 Aug 16, Mon
Last Day to Book: 2021 Jul 15, Thu
Book your group rate for Sugarloaf99s
*Registration limited to female participants age 14 or older with parental/guardian permission required for participants under age 18. The event organizers reserve the right to refuse any registration at their discretion. No guarantee can be provided regarding the availability of aircraft for flight training or weather conducive for flight training.